2021
Speakers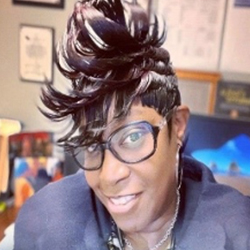 Andrea Robinson
Security Manager, National Museum of African American History & Culture
Ms. Andrea Robinson has been with the Office of Protection Services (OPS) for 32 years. She has worked her way up through the ranks as a gallery attendant to become a Security Manager within OPS. During her years at the Smithsonian Institution (SI), she has earned the respect and support of her peers and subordinates. She has been fortunate to have excellent mentors with strong leadership skills as role models. In the early 2000's, OPS mentoring programs and her predecessors cleared the path in reaching this point in her career.
Ms. Robinson has demonstrated her knowledge and ability to lead a strong security team. She has developed the strength, ability, and experience in training museum staff with security and safety protocols. She has demonstrated her competency in managing the overall performance of a security team throughout several assigned units. Ms. Robinson has proven her abilities in analysis, recommendations, and strategic planning to improve the overall function of the security units.
During her career with OPS, her assignments have included the National Air and Space Museum on the Mall, the Arts & Industry Building/SI Castle, National Museum of American Art & Portrait Gallery (now Donald W. Reynolds Center for American Art & Portraiture), and the Steven F. Udvar-Hazy Center. Currently, Ms. Robinson is the first African American woman Security Manager to open a new museum at the SI — the National Museum of African American History and Culture (NMAAHC), which she feels is the highest honor of her career.
As Security Manager, her responsibilities include overseeing a large museum/complex security program. This entails leading and providing protection throughout the Smithsonian Institution. Her 32 years at SI has enabled her to build a rapport and respect with not only employees and other departments throughout SI, but also numerous outside agencies such as DC Metropolitan Police Department, U.S. Park Police, National Park Services, CIA, FBI, Metropolitan Washington Airport Authority Police, U.S. Secret Service, and others. She has gained diplomatic skills interacting with countless VIP and high-profile visitors and dignitaries throughout her career.
Ms. Robinson leads, guides, directs, and motivate three shifts, which consist of 45 uniformed OPS officers. She supervises and manages the physical security program planning, policy, organizational performance measurement, and program development at the NMAAHC. She provides advice, assistance to all levels of management, and works to ensure external and internal needs for the unit. She provides training to contract officers who join the organization and helps design team building and security curriculum.
She serves on numerous volunteer committees in her community to help young girls and women in domestic violence and abusive relationships. She has been involved in various voluntary activities with OPS including serving on several promotion panels. She has mentored other employees outside of OPS, which enabled them to reach their desired career goals. Ms. Robinson studied business administration from 1988-1991 at Cheyenne University in Pennsylvania and the University of the District of Columbia and received her associate degree in business administration. One of Ms. Robinson's many strengths is her love of people. She will meet and greet everyone she encounters.