2023
Speakers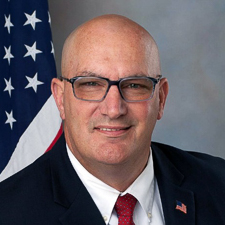 Michael Stewart
Commercial Facilities Section, Stakeholder Engagement Division, Cybersecurity and Infrastructure Security Agency
Michael is 53 years old and was born and raised in San Diego, California. He is married to his wife Kimberli of 21 years and has beautiful twin 13-year-old girls. Michael is a 'Dance Dad' (I'm not the dancer, I'm the financer) whereas his little ladies dance six nights a week and compete nationally mostly on the East Coast. Michael is an avid sports fan of all the major leagues and loves to play golf – whenever possible. 
Michael is with the Department of Homeland Security (DHS), Stakeholder Engagement Division (SED) for the Cybersecurity & Infrastructure Security Agency (CISA) as the lead for Sports Leagues, Public Assembly, Gaming and Retail Subsectors within the Commercial Facilities Sector. Michael continues to grow his body of critical infrastructure knowledge within his area of responsibility (AOR) and continuously strives to improve the program's understanding of stakeholder needs nationwide. As subject-matter expert regarding all infrastructure of concern, Michael utilizes existing databases containing CI information to develop infrastructure analyses. It is his firm understanding that partnership engagement and the fostering of relationships between the public, private corporations, and federal agencies leads to a more resilient posture toward homeland defense. 
Michael enlisted in the U.S. Army in 1996 as a 12Bravo Combat Engineer where he participated in combat operations in Bosnia and Iraq. His primary job was to render safe and disposed of IED/UXOs (Improvised Explosive Devices and Unexploded Ordnances) – mapped locales of exposed areas; performed surface and subsurface assessments; emptied weapons caches; safely disposed of/removed projectiles, mortars, and grenades; and executed MOUT (Military Operations in Urban Terrain – warfare in populated towns/provinces) room clearing and Check Point Operations (calm to hostile vehicle inspection operations). During that time, he was honored with numerous opportunities and responsibilities such as: Platoon Sergeant, Squad Leader, Team Leader, Battalion Maintenance Sergeant, Company Master Fitness Non-commissioned Officer In Charge, Company Safety Officer, Company Equal Opportunity Liaison, Company Range Safety Officer, and Primary Rescue Instructor. 
Michael's career ambitions were cemented as a result of the attacks on Sept. 11, 2001, while stationed at Fort Belvoir, Virginia, Technical Rescue Army Unit. He was the Primary Rescue Instructor for the Military District of Washington Technical Rescue Engineers who were deployed for 10 days to the Pentagon rescue/recovery mission – Operation Noble Eagle. It is a result of his 9/11 experience along with accounts witnessed in Iraq, that he knew he wanted to have mitigating impacts toward terrorism and other emergent situations. 
In July of 2006, Michael received a military medical discharge because of injuries sustained while deployed to Iraq. He went on to work in the civilian sector as a government contractor for the Pentagon Force Protection Agency as a Protection Operations Specialist where he coordinated and conducted trainings and recertifications for the Pentagon Police Directorate in accordance with Occupational Safety and Health Administration required trainings on blood borne pathogens, radiation safety, risk management, and hearing conservation. Additionally, Michael was selected to support exercise preparation as a planner and evaluator for Pentagon Force Protection Agency/Department of Defense "Gallant Fox" exercises and DHS "Secure the Cities" exercises in accordance with the National Response Framework and National Incident Management System. 
In June of 2015, Michael went on to become a Site Manager in response to U.S.Department of Agriculture confirmed H5N2 avian influenza in commercial turkey flocks in Minnesota where he managed a crew of 147 personnel responsible for safety and bio-security measures while overseeing the proper decontamination of farms and their associated equipment, which were encased in support areas established within the Warm Zone – also referred to as the Contamination Reduction Zone. 
Up until December 2016, Michael worked for Aveshka in support of DHS providing operational analysis, project management support to regional initiatives, and planning support to critical infrastructure operations within AOR during both steady-state and incident response operations specifically for Federal Emergency Management Agency Regions I and II.