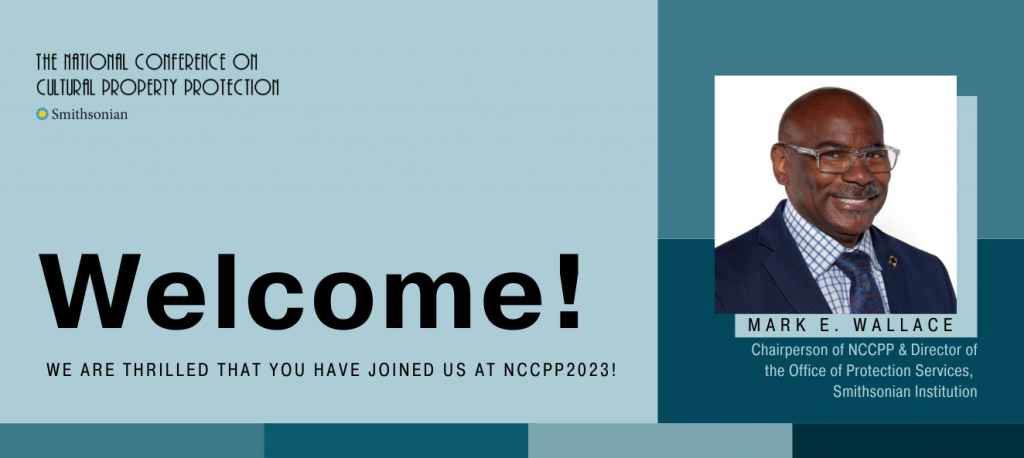 On behalf of the Smithsonian Institution and the conference board, it is our pleasure to welcome you to the National Conference on Cultural Property Protection. We are thrilled to have you join us for this gathering of experts from across the country and around the world.
This conference is all about sharing ideas and knowledge. Throughout our time together, you'll have the chance to attend sessions and workshops and meet fellow attendees. Our speakers are experts in their fields, and we hope their talks will inspire you and spark interesting conversations.
NCCPP is committed to making this conference an inclusive and enriching experience for all attendees. If you have any questions, require assistance, or wish to provide feedback, don't hesitate to reach out to one of our team members wearing a teal-colored ribbon on their name badge.
We'd like to express our deep appreciation to our sponsors, who have generously invested in this gathering; to every speaker, moderator, and photographer who volunteered their time and expertise to us; to our incredible board who put this conference together; and to our logistics team for their hard work and support.
Once again, welcome to NCCPP 2023. Enjoy the conference!
Mark E. Wallace
Chairperson of NCCPP and Director of the Smithsonian's Office of Protection Services
---
Program