2023
Speakers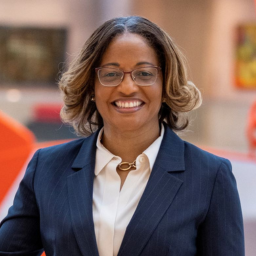 Genia Reaves
Chief of Protection Services at the National Gallery of Art
Genia Reaves serves as the Chief of Protection Services at the National Gallery of Art. Chief Reaves has been with the National Gallery since 2016, serving as assistant chief and acting chief of the same division. The Office of Protection Services consists of four programs: Security Operations, Risk Management, Technical Services, and Administration. As the chief of protection services, she leads all National Gallery efforts related to the security, protection, and health of staff, visitors, and the collection. Chief Reaves directs all aspects of training and career development for security officers. She also serves as the museum's senior advisor in day-to-day and special relations with law enforcement and with the security details of senior officials visiting the National Gallery, from the president to foreign dignitaries.
Chief Reaves joined the National Gallery of Art in 2016 after retiring from the Prince George's County Police Department in Maryland. She served in several positions during her 22 years with that department. She began her career as a patrol officer and community oriented policing officer, later working as a recruiter. Chief Reaves was then assigned to the Criminal Investigation Division as an investigator, where she held various supervisory and managerial positions and achieved the ranks of sergeant, lieutenant, and captain. Other positions included district commander, assistant district commander, assistant commander of the Criminal Investigation Division, commander of Advanced Officer Training, commander of the Special Crimes Section, and supervisor of the Child and Vulnerable Adult Abuse Unit. In her final position prior to retirement, she was the acting deputy chief of the Bureau of Administration and Homeland Security.
Chief Reaves holds a bachelor's degree in criminal justice from the University of Maryland University College and an associate's degree in business management from Prince George's Community College. She is also a graduate from the FBI National Academy.