2023
Speakers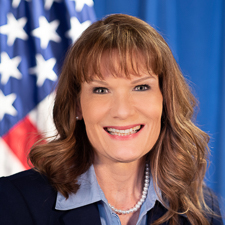 Michelle Bednar
Supervisory Special Agent and Unit Chief for International Operations, Programs, Homeland Security Investigations
Ms. Bednar oversees a multidisciplinary staff that manages the operations of several programs within Homeland Security Investigations' (HSI) International portfolio including: cultural property, art, and antiquities (CPAA); biometric identification transnational migration alert program (BITMAP); transnational criminal investigative units (TCIUs); international law enforcement academies (ILEA); and the personnel recovery unit (PRU). 
Throughout Ms. Bednar's distinguished career, she has led a diverse cadre of federal agents, intelligence analysts, and professional administrative staff at various HSI offices and in HSI Headquarters positions. Prior to her current assignment, Ms. Bednar served as the Acting Resident Agent in Charge for the Office of Professional Responsibility in Tampa, Florida. 
Ms. Bednar began her federal law enforcement career as a U.S. probation officer in the Middle District of Florida and was hired as a Special Agent with the U.S. Customs Service in Miami in 2001.