2023
Speakers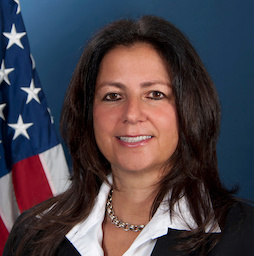 Regina Lombardo
Chief Security Officer for The Metropolitan Museum of Art
Regina Lombardo is the Chief Security Officer for The Metropolitan Museum of Art where she is responsible for the Museum's entire Security operation, overseeing the Museum's policies and practices that ensure the safety of staff, visitors, the collection, and the buildings.
Previously, Ms. Lombardo was the Acting Director of the Department of Justice's Bureau of Alcohol, Tobacco, Firearms, and Explosives (ATF) in Washington, D.C., where she is responsible for upholding the Bureau's mission and overseeing all operational activities, including the management of more than 5,000 employees and a $1.4 billion annual budget. She is the ATF's first female Acting Director.
A member of the Senior Executive Service and an experienced law enforcement professional, Ms. Lombardo began her law enforcement career in 1992 as a special agent in the ATF Miami Field Division. She served in various management positions there, including Assistant Director of the Office of Human Resources and Professional Development; Deputy Assistant Director of Field Operations' Central Region; Special Agent in Charge of the Tampa Field Division: Assistant Special Agent in Charge of the New York Field Division; Chief, ATF's Leadership Institute; Group Supervisor for the High Intensity Drug Trafficking Area Task Force in Miami, Florida; and as Assistant ATF Country Attaché in Toronto, Canada.
Ms. Lombardo holds a Bachelor of Arts degree from the University of South Florida and is a member of several organizations, including Women in Federal Law Enforcement, the National Association of Women Law Enforcement Executives, the Florida Sheriffs Association, the International Associations of Chiefs of Police, and Major City Chiefs.