2023
Speakers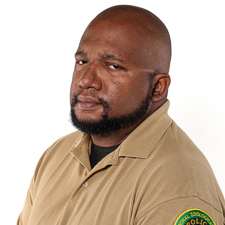 Sgt. Ronald Gaskins
Sergeant, Office of Protection Services, Smithsonian
Sgt. Ronald Gaskins was born and raised in Washington, DC. He is a graduate of the Duke Ellington School of the Arts, where he pursued visual art. Growing up, he spent a lot of time at the National Museum of Natural History (NMNH) and the National Air and Space Museum (NASM). Shortly after graduating high school, he joined the Office of Protection Services as a trainee and then moved up to a Museum Protection Officer in 2004. Gaskins left the Smithsonian to pursue other ventures but returned in 2008 and was promoted to Sergeant. He worked in various facilities including the National Postal Museum, the Cultural Resources Center at the National Museum of the American Indian, the National Museum of African American History and Culture, and the NMNH before being promoted to Lieutenant at the end of 2020.
On Sept. 30, 2021, Sgt. Gaskins graduated from the Consortium of Universities of the Washington Metropolitan Area's Campus Public Safety Institute (CPSI) where he earned the highest academic scores in his class. CPSI was established to train and certify law enforcement personnel within DC area campuses. CPSI specializes in law enforcement in educational settings, teaching models of community policing to foster collaboration, equality, and an individual-centered focus. He is now posted at the Smithsonian's National Zoological Park.
He is a firm believer that life is about the journey and not the destination and, with that, he's interested in the evolution of himself as a whole, which is reflected in his life personally and professionally.